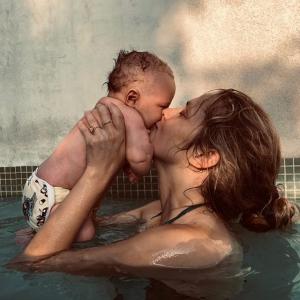 Water Poet 💐 My week 8 postpartum vlog is up now on @yourzenmama I chat our week with our little crew, 4 kids! Sheeesh it's a lot guys, a lot of all the things! love, fun, juggling, giggles, adventures, chaos, noise and MESS!!! I swear I tidy the house in the afternoon and by bedtime it's like a bomb has gone off again 🤣 I also chat Poets favouritism, summer in LA and my contemplative thoughts about birth order and my kids. LINK IN BIO 💗🤗
Here's a random photo of me in the pool with Poet 🐟 it's was really cute! What this post is actually about is that we've decided to go on an RV trip for 10 days leaving from LA with 4 kids and 3 adults (thanks Mum!) and we want IDEAS! We have no route in mind, just driving and adventuring, what are your must sees/stays that are interesting for kids too? Kids ages 11, 5, 2.5 and 8 weeks. We are PUMPED! #RVlife maybe we will see ya'll on the road!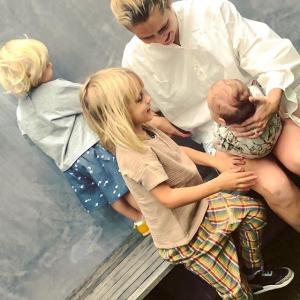 My little men and I are decked out in awesome threads thanks to @thedopple and @shopdoen 🥰 They have partnered for this week only! @thedopple is the best place to find kid's designer and indie brands curated to your little one's size, style, and budget. To order a limited Dôen Dopple Drop just take the Dopple quiz and use the code DOEN at checkout by 6/13 to try for free and get dibs on Dôen before it sells out! Link in bio xx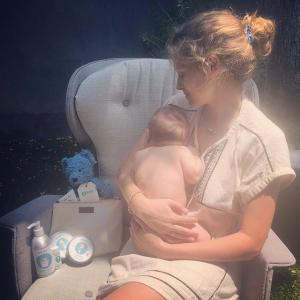 My beautiful friends over @baeobaby are making the most divine certified organic beauty products for both Mama and her babies. Derived from sweet smelling essential oils, they really are of the highest and most pure quality. I lather it all over my kiddies and have seen such a rapid healing in Poets nappy rash since getting my new tin of Bare Booty. Thank you @swrightolsen and @annaaschafer for all your intentional work to create a beauty line that we can trust and rely on for ourselves and our children 💗🥰 link to website in Bio. P.s my kids LOVE the cute Baeo bear, having to get a few more haha!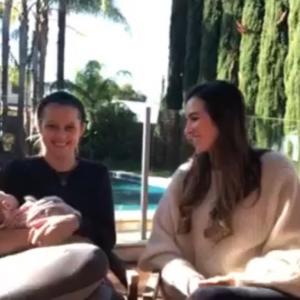 NEW VLOG on @lovewell.earthblog – This week @christianeduigan and I chat about the importance of having supportive women in our lives. We also share how we went from toxic relationships to creating deep fulfilling quality friendships. Hit the LINK IN BIO to watch the full video. Enjoy! x #livewelllovewell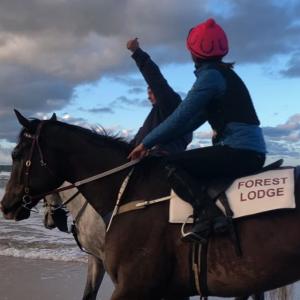 A year ago we finished filming @ridelikeagirlmovie it was a transformational experience for me. This is me with the man they call Peter Pony, he trained me and made me feel competent being with these majestic animals 🙏 I just saw the movie for the first time a few days ago and I'm just so moved by it. Michelle's story will be incredibly empowering for young women all over the world, all the immense hurdles she faced, what she had to overcome and the ultimate dream she reached, it's truly mind blowing. It teaches us that no goal is unreachable, you just have to really believe you can do it and then throw your everything in to it. Do not give up on your dreams. Well done @rachelgriffithsofficial for making one of the most important movies I've ever seen, I can't believe I was lucky enough to be the one to play this remarkable woman. @markwebber and I cried from the start to the end! For real. Absolute goosebumps. In cinemas September 26th @michellejpayne_@transmissionfilms #ridelikeagirl#michellepayne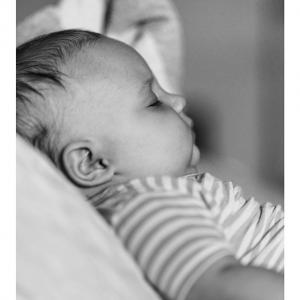 A little Poet 🌈 Week 7 (!!) postpartum vlog is now up on @yourzenmama I chat about transitioning back to life in LA, introducing P to her biggest bro, conquering the nappy rash and my thoughts after watching @ridelikeagirlmovie and why it means even more to me now after having a daughter 💗🙏LINK IN BIO. beautifully captured by uncle @stuartlkerr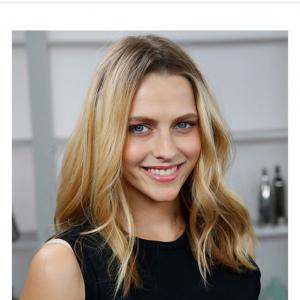 As an Ambassador for the Sammy D Foundation, I know first-hand about the amazing work they're doing to prevent bullying, violence and drug and alcohol misuse, as well as their important role in mentoring disadvantaged young people in the community. The Reach for the Stars Ball supports the Sammy D Foundation to educate and mentor young people in the community. Join the Sammy D Foundation at the National Wine Centre of Australia on June 15 – there are only 6 tables left! For more information check out the link in my stories!#sammydfoundation #ambassador#reachforthestars #charity#education #mentoring#changinglives #shapingfutures#adelaide #event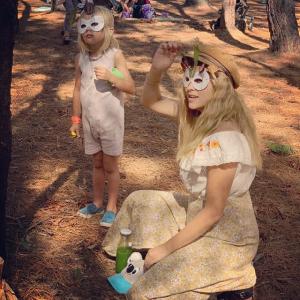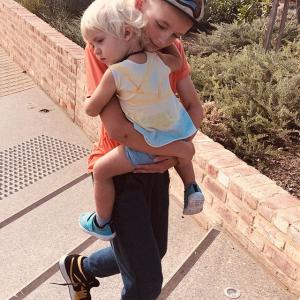 Our biggest boy is 11 today. Happy Birthday Isaac Love, my beautiful stepson with the biggest heart ❣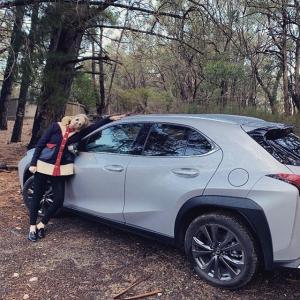 A huge shout out to @LexusofAdelaide for partnering with me. It's been so helpful to us as a family to be able to drive this lovely car. It brought our baby girl home from the birth centre, took us to all the amazing Adelaide adventures we had with the kids and became our old trusty navigating the windy streets of the Adelaide Hills in the rain with sleeping kiddies in the back. See you "Alexis", thanks for keeping us safe! Grateful 🙏 Now for some LA sunshine…. #lexusofadelaide#lexusux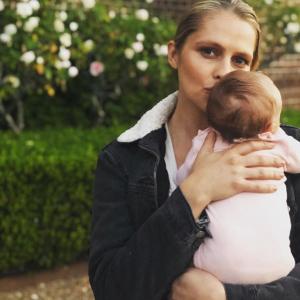 Week 6 postpartum vlog is up now on @yourzenmama I chat about packing up life here in Adelaide for awhile (see ya soon LA!) our new cloth nappy adventures (thanks @owlbabystore) the busiest week of the year and this weeks reflections. 6 weeks left of postpartum vlogs! can't believe how fast time is going and just how big our babe is getting, bye bye newborn clothes! Hello yummy chunk thighs 🤗 Link in bio 💗🌈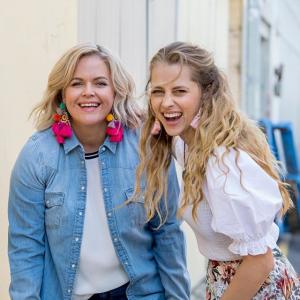 This is my friend Taryn Brumfitt from @bodyimagemovement She is the Director of "Embrace" the documentary, a must see film on body image. Taryn is raising funds to make her next documentary "Embrace Kids", which is aimed at helping 8-12 year old girls and boys to build a foundation of positive body image. I believe in Taryn's mission so much that I've joined the project as an Executive Producer. Taryn has set out to raise $250,000 to create the film, once it is made Embrace Kids will be available to every school across the world as a free resource. There are two ways I would love you to help this project. 1. Taryn is running a marathon tomorrow to raise funds for the film, head to @bodyimagemovement and click on the Go Fund Me link in her bio to make a contribution 2. Swipe right to see the Embrace Warrior Woman print created by artist @hollyeva. 100% of all proceeds of the print will go towards the Embrace Kids doco. Head to bodyimagemovement.com to get yours (worldwide shipping is available)! #embracewarriorwoman#ihaveembraced#bodyimagemovement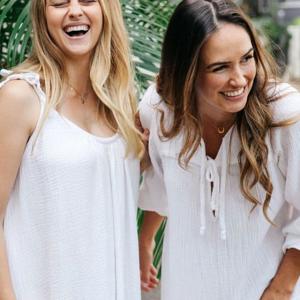 Loved shooting with my girl @christianeduigan chatting about @lovewell.earth for the amazing @beauticate 💗🙏 styled by @kristinrawson (LOVE LOVE the white dresses by @honour_apparel) shot by @camillaquiddington thanks for including us guys! LINK IN BIO #livewelllovewell#nutritionalsupplements#plantbased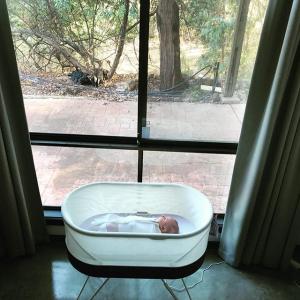 She loves it here by the window 💗 thank you @happiest_baby for the creation of the SNOO, the safest baby bed ever made. Poet sleeps so peacefully in it. So well in fact that not only does she get to sleep in Forests old Snoo back in LA next week but we also got ourselves one for her to have in Wales when we move there in July for @adiscoveryofwitchestv ✔️ Ah the creature comforts matter when you have a newborn! #SNOOnation#happiestbabypartner#happiestbaby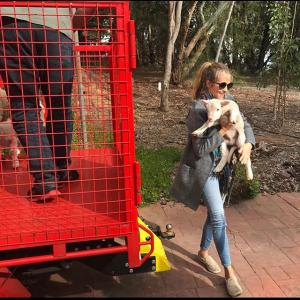 In 2017 I had the idea to rescue some sheep from slaughter. I drove with my mum & 3 kids down to my local petrol station, hired a trailer, figured out how to hook it up & drove hours to a farmers property with sheep that were going off to market to be killed for meat. I convinced the farmer to let me buy them for a crazy amount of money, put them in the trailer, drove all the way home and cried happy tears for them as we released them onto my property where the mama & her two grown up boys are now living happily and free, we see them grazing on our grass every day. There are certain vegans out there who have been bashing me because of a hugely misleading article written by the Daily Mail about me. Usually I don't care about junk that gets written about me, but because it's about animals, I now care. It was taken from a very brief radio interview I did, funnily enough I was there to promote my vegan nutritional shake @lovewell.earth.Having been given tons of shit before in the past for 'raising my children vegan', I was asked by the hosts about that aspect of my life. The radio interviewers were joking around with me & my comments about lying to my son weren't meant to be taken literally. I didn't have enough air time to give context to the story and with the funny banter they quickly moved on to the next topic before I could actually clarify what I meant. So here is my clarification for those of you taking the time to be cruel to me online. I haven't eaten meat in years, I'm transitioning back into veganism after finding out that my baby has dairy allergies. My husband, myself & sons Bodhi & Forest eat things with milk & cheese in it on the rare occasion. For Bodhi these occasions are at birthday parties where the cake has milk/butter in it. Bodhi is 5 and doesn't quite understand what the word vegan actually means, he enjoys eating milk chocolate and/or cake sometimes but he calls himself "vegan" to be just like his big brother Isaac. Bodhi thinks being a "vegetarian" means you eat meat. So I ask the parents at the parties just to say "it's vegan" to save Bodhi's tears and because he just wants to make sure there's no meat in it (cont'd in comments)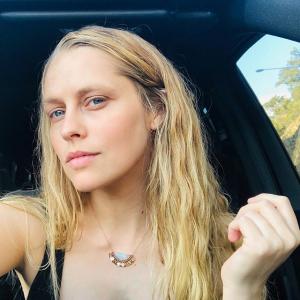 This piece of jewellery is HEAVEN. It took my breath away when I opened it. Created especially for me by the glorious team of folks @wishartjewellersglenelg they designed it, using the most stunning opal I've ever laid eyes on and surrounded it by the names of my children. It reminds me of the sun and the colours change every time I look at it. Dan and his team create individualised pieces for anyone around the world, please consider working with them, I just think there's something magic about what they're doing. So grateful 💗🙏 #nevertakingthisoff #crescentopal#namependant #ethicaljewellery#wishartjewellers#wishartwishlist#handmadejewellery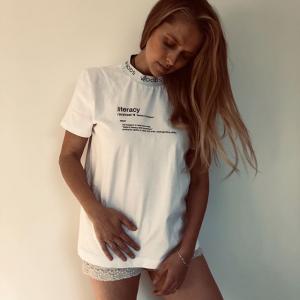 Indigenous and Torres Strait Islander children are three times less likely to meet the national minimum standard for reading and writing, which seems incredibly unfair considering the opportunities afforded to those with even basic literacy skills. Every single day I read and write; for work, for knowledge, with my children, or even just to know I'm walking in to the right toilet! Literacy can shape us into great authors or researchers, creatives or academics; literacy is everywhere. The t-shirt that I'm wearing was designed by Vik & Woods and from May 20th until June 10th, David Jones is donating ALL profits to @alnf_, to help close the Indigenous literacy gap. Literacy IS freedom!! Please visit link in my bio. #DJsxALNF#LiteracyisFreedom #NRW2019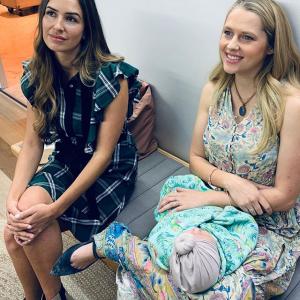 Thank you @christianeduigan for letting me rope you in to doing interviews to talk about @lovewell.earth! I know it's not your favourite thing being on camera but you do it SO well!! How lovely to get to work with one of my besties. Check the link in my bio to see what we are all about. 100% Plant based nutritional chocolate shakes for the busy woman, your picky kids and your hangry husband (or is that just my hubby?!) 🤣 we have been reading ALL the amazing comments and feedback from those of you enjoying your shakes and feeling the pick me up already, it means the world to us 💗🙏
Happy weekend folks! 🧚🏻‍♂️